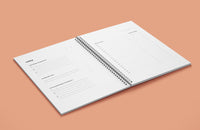 Thoughts impact our behaviour which affect our mood. 
Our three-month journal has hourly, daily, weekly and monthly points of reflection. It's an excellent way to track everything from how much water you drink, to how your co-workers make you feel. Ahem, Karen.
See what it's all about
Our Mission
Create mental wellness resources that are accessible, inclusive and loved by our customers.
Amplifying diverse artists
We want to help amplify and illuminate diverse artists from around the world. We've handpicked cover artists who create work as unique as they are. 
shop the bestsellers collection